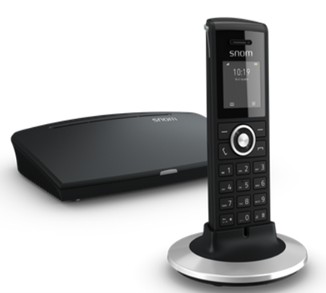 M325 DECT Bundle
Up to 20 handsets on a single-cell DECT base station This single-cell DECT package includes the M300 base station and one M25 handset, forming a uniquely powerful and expansive mobile telephony solution. This package can be extended with up to 20 additional Snom DECT handsets from the single M300 base station and is ideal for creating mobile telephony in a small office environment. With a range of up to 300 meters outdoors and approximately 50 meters indoors, the base station provides broad coverage, which can be extended by adding up to three M5 repeaters. This single-cell DECT solution is easy to install and provision and utilizes the same interface as Snom desk phones for a comfortable and familiar user experience.
Quick summary
• M300 base station and M25 handset package
• Up to 20 handsets
• Up to 5 parallel calls
• 75 hours standby and 7 hours talk time

M25 Office Handset
A DECT handset for professional business use The M25 DECT handset is a high-functioning device with an excellent price-performance ratio. Designed for professional business use, the handset relies on rechargeable AAA standard batteries that provide up to 75 hours standby and 7 hours talk time. Snom's cutting edge user interface is streamlined for speedy, intuitive navigation and ease of use. The handset can be deployed in both Snom DECT solutions with easy configuration, flexibility, and scalability.
Quick summary
• IP DECT handset
• TFT color display
• Up to 75 hours standby and 7 hours talk time
• Configurable signal LED
• Intuitive user interface
• 3.5 mm headset jack